Today, we're sharing a 5 Favourite People Success story – if you'd like to learn more about growing your practice with a smart, focused strategy (and save your seat in the March 2017 round), click here for all the info you need. 
Brad Williams is an Occupational Therapist and owner at Williams OT. When I first heard about Brad I was really excited to work with him – he's doing incredibly skilled, highly niched work (channeling his OT skills into all things driving-related) and by all accounts his business is already well established.
Brad signed up for My 5 Favourite People in November 2016 because he was looking for a way to stay in touch with the contacts he already had – and to keep building relationships in a way that fostered and encouraged new referrals into his business.
Here's a bit more insight into how Brad made My 5 Favourite People work for him:
What's your website, Brad? 
www.williamsot.com
Give us some background! 
Williams Occupational Therapy (Williams OT) is an Occupational Therapy Practice specialising in driver assessment and training for drivers with a medical condition. We are situated in Adelaide, South Australia and I opened the business in 2011 after managing Occupational Therapy driver assessments at the Repatriation General Hospital (Repat) from 2008 to 2015.
Fun fact: my first profession was as a Baker.
Tell us about your experience of participating in My 5 Favourite People:
Reaching out to people and "networking" wasn't a new concept for me – but My 5 Favourite People gave me a defined system and strategy for building relationships with people who are in a great position to refer to Williams OT.
Working with Jo inside the program has helped me reframe how I view my marketing efforts, and the types of conversations I have with my referral partners. In the past, we were focused on talking about ourselves – here's what we do, here's why you should care, that kind of thing. But with 5 Favourite People, we were asked to turn that concept on it's head and instead start engaging with people by asking questions and being really, really generous.
I kind of think of the program as a way to be "strategically nice" to people – but in a way that's totally sincere and actually helps you build real, genuine relationships with people.
Because of all the written information and worksheets we received, it was great to have a way of tracking and measuring our progress. Plus – the group atmosphere was really interesting because it gives you the chance to learn from people in different niches, at different stages of business.
Not to mention the live group calls with Jo – it was great to get specific advice and to be held accountable to the plan.
OK – let's talk results! 
I've received 11 new referrals as a direct result of the program – which means I've made back my investment in the course more than ten times over. I know we have a lot more in the pipeline too – which is the great thing about the course. It gives you the system you need to keep nurturing those relationships over a long period of time.
I've received 11 new referrals as a direct result of the program – which means I've made back my investment in the course more than ten times over. 
Who would you recommend My 5 Favourite People to? 
This is a great program for anyone who is looking for a strategy and a system for staying in touch with people who have access to your ideal client – plus the process for measuring your results so you can see what's working, what's not and what needs to change.
The idea of building relationships can feel abstract and overwhelming for some people: but this really is a system you can follow. Jo is the real deal and this process works.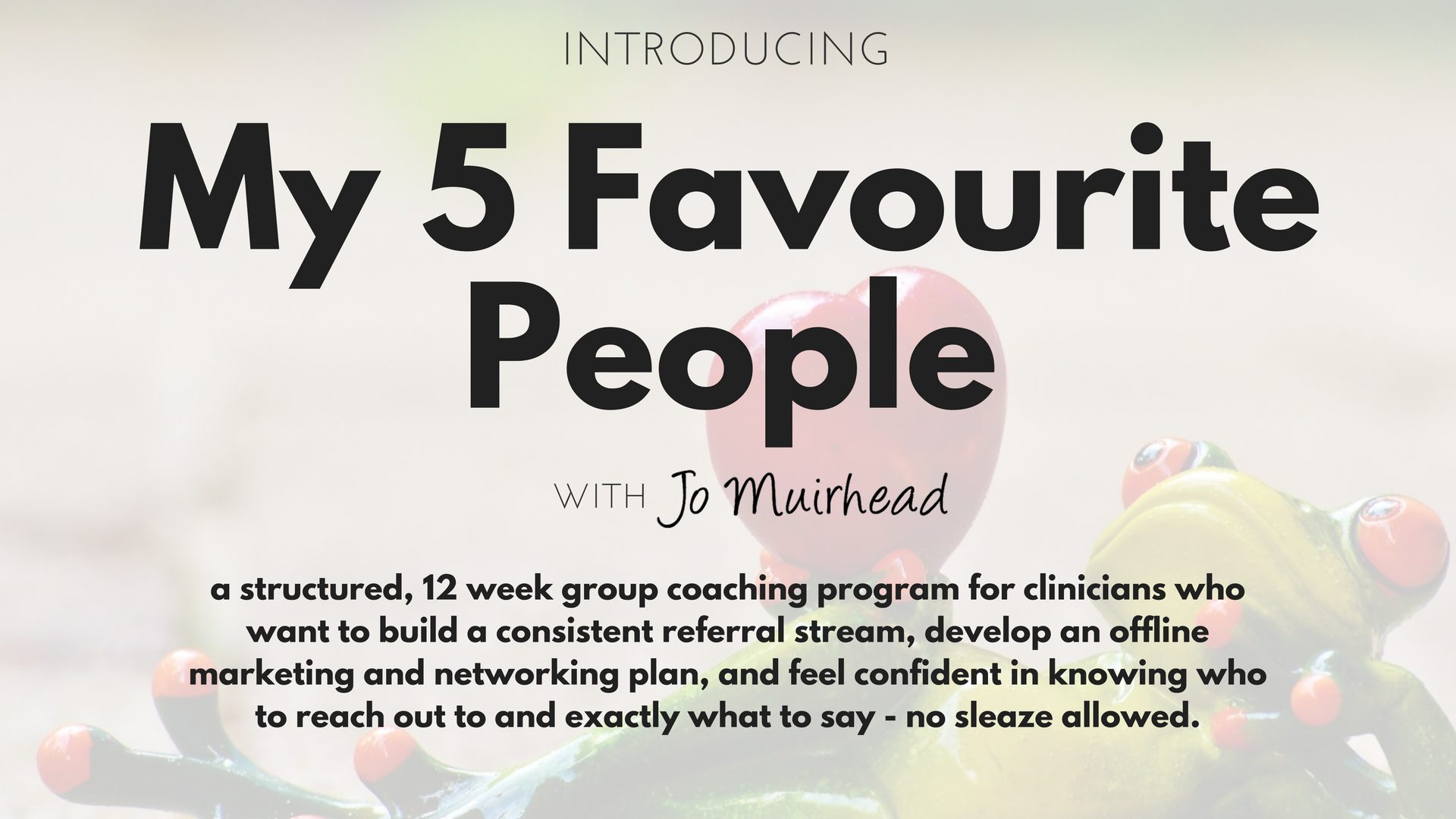 Want to learn the quickest way to get paying clients through your doors with a relationship-building system that is introvert-friendly and anti-sleaze? Check out My 5 Favourite People. Enrollment is currently open for March 2017 – but doors close soon and places are strictly limited. Click here to learn more and to save your seat.