Hey You – Awesome Clinician
scrolling around the interwebs looking for THE answer
to getting more paying clients now..?
Do you need more clients now?
Do you want a steady stream of new client referrals coming to you every single week?
Are you looking for skills development, opportunity to practice new skills in a safe environment and be supported?
Would you like to be a part of a small group (max 15) of dedicated clinicians who are focused on learning this Highly Profitable Network marketing strategy that has made many clinicians hundreds of thousands of dollars in business?
Jo, I don't need any more info - just give me the start date and pricing
Don't let 2018 be a repeat of 2017!
The internet is full of noise.
Yes online marketing is needed and necessary, but so is offline marketing.  And let's face it – as clinicians we have a superpower that very few other service providers have………. We are experts in human behaviour and we KNOW how to build relationships.
YOU are your practice's best marketing weapon.
You just don't know it yet!
As a clinician, you build relationships with your clients day in, day out. You already know how to connect with people. You already know how to build rapport and make genuine connections. The ability to form connections with others is the foundation of good marketing. You, my fabulous clinician… are a born marketer. Even though you cringe at the idea of talking about yourself. Even though the idea of putting yourself out there gives you sweaty armpits and a quick pulse. Its time to turn this superpower into the most effective marketing tool in your business.
OK Jo, I'm in! When do we start and how much does it cost?
The 5 Favourite People Program
What is the 5 Favourite People Network Marketing program?
It is a 12-week training and coaching program that not only shows you WHAT to do, but gets you doing it so you can be supported and refine your skills as you go.
You will learn how to assess who should be in your 5 Favourite People network.
You will be trained and supported to reach out to a variety of people to build your 5 Favourite People network.
You will have the knowledge, skills and ability to be able to add to, change or replace people in your 5 Favourite People network.
You will have scripts and templates to work from.
You will have the opportunity to practice, refine and build confidence in a Safe and Supportive environment.
You will have an easy to follow and use documentation system so you can keep up with your 5 Favourite People.
How is the program delivered?
This is a 12-week small group training and coaching program.
It is delivered through Facebook.  There is a secret group where all the files, resources, tools etc are uploaded and where everyone can share and learn from their experiences.
The group calls are delivered through Zoom.
No passwords to remember.  No membership sites to navigate.  Just log into Facebook and we are here ready and waiting to support and help.
What do I need to make this program work?
We will have a group call every 2 weeks using Zoom.  This is the opportunity for you to ask questions, share successes, share things that didn't work, but mainly ask questions.
You will need a Facebook account, access to Zoom and access to the internet.
You will need to be prepared to DO THE WORK.
Then you need TO DO THE WORK.
You will need around 4 hours a week for the 12 weeks of the program.  This 4 hours will include
reviewing the learning resources, participating in the group calls and actually implementing.
What this program does not cover.
This is NOT a program to start a private practice.
This is not a program to help you define or refine your Niche.  If you don't have a Niche that's OK, this strategy can still work.  This program will help you refine and define your Niche, but it's not the primary learning outcome of the program.
This is not an information only program.  There is 4 weeks of content, and then there is 8 weeks of getting down and dirty and implementing the content.  There is so much information available to us today, there is not a whole lot of support to help you implement the new information – That's what is different about this program.
This is not 1:1 individual coaching.  This is a group program and learning occurs from each other as well from me.
OK Jo, I'm in when do we start and how much does it cost?
What previous participants say: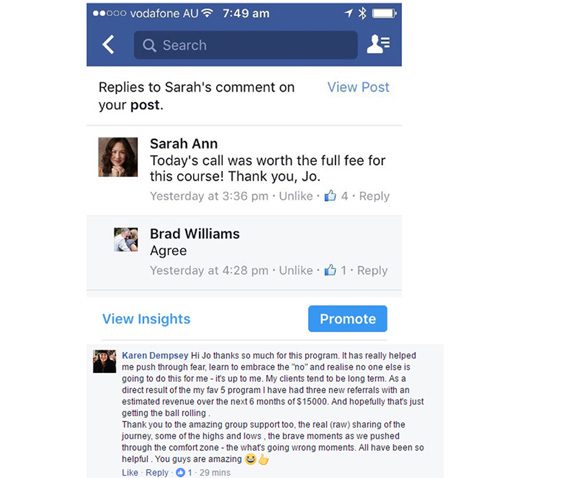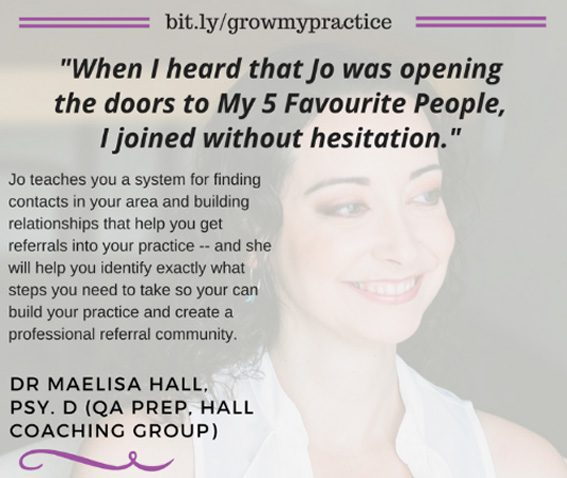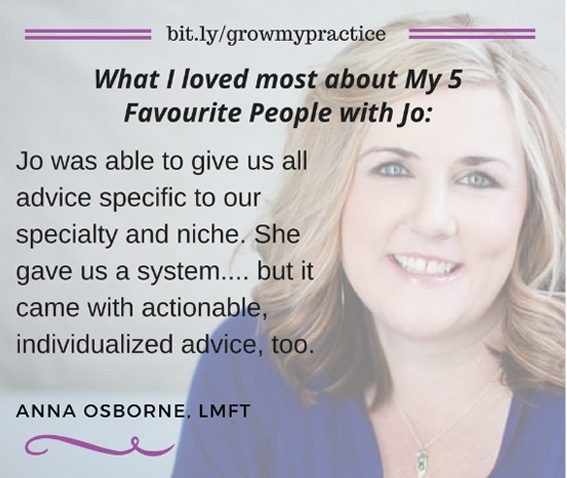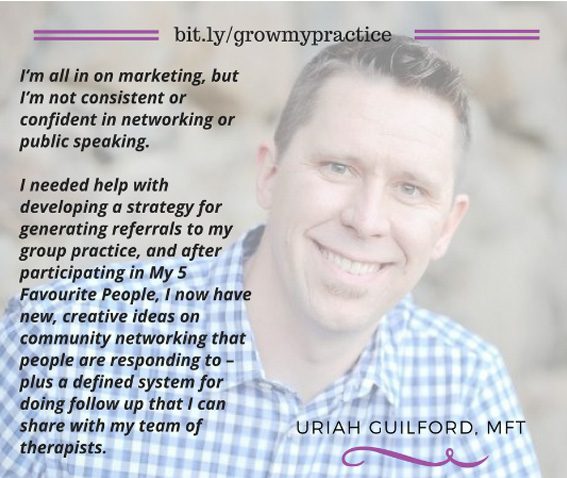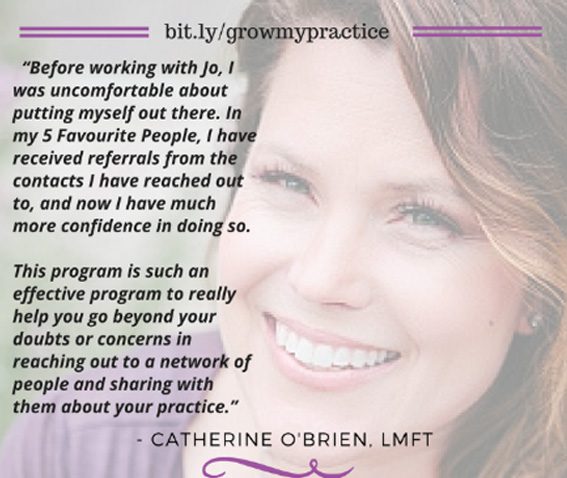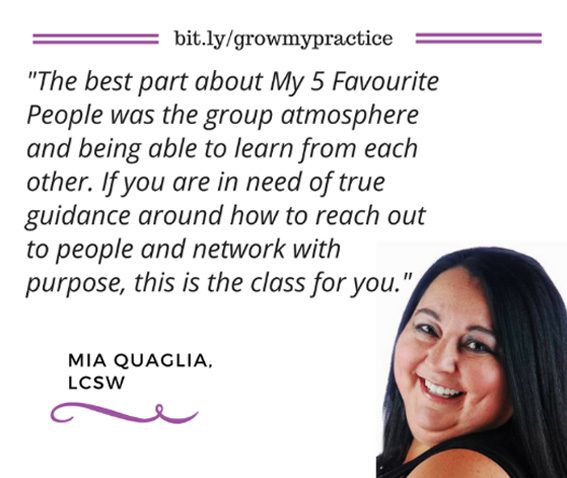 My 5 Favourite People will give you the confidence, support and accountability you need to bring new clients into your practice… with the same approach I've used to grow my $600K+ per year practice with a team of 10 consultants.
Something you may not know about me:
for the first 4 years, I grew my practice entirely offline.
I didn't have a website.  I didn't use social media.  I didn't even know that email marketing was a thing.
All of my referrals came from the connections I built through a lot of trial and error.
Just like you, I told myself that I was too introverted – that I didn't know how to market – that maybe I didn't have anything valuable to offer – and even if I did, how the hell was I supposed to say it?
But I learned.
My business grew so quickly that I had to hire a team to manage all the new referrals coming in.
And now, you can learn how I did it.
I've distilled my 10 years of experience as a successful private practice owner, into a replicable system that you can follow to grow your practice just like I have.
And you don't have to sell your soul to the devil and become a health professional dressed up as a used-car salesman, either.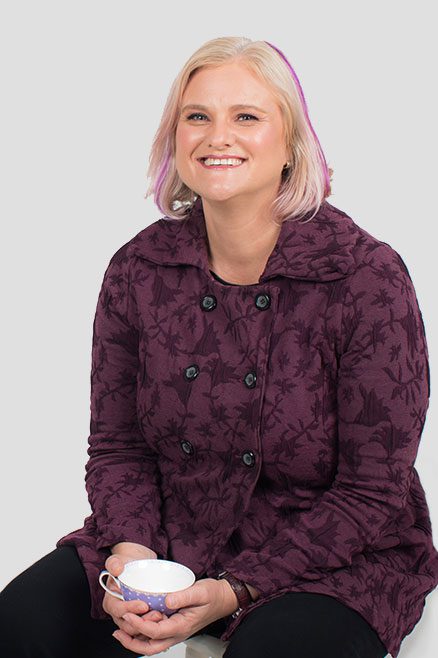 Feb 2018 ROUND IS NOW OPEN FOR ENROLLMENT! Make the no-brainer investment in growing your practice:
Spaces are strictly capped at 15 People…
What You Can Expect From This Program
12 weeks of support, advice and guidance for growing your practice rapidly with referrals (we officially start on February 21st for our US friends, which is February 22nd for the Aussies)!
Access to a private Facebook community for answers to your questions from a small group of like-minded clinicians.
Training videos and case studies to get you up and running.
Weekly checklists, worksheets and activities to make sure you stay on track.
Cheat-sheets and scripts for reaching out to people and nurturing new relationships.
A revenue calculator and and progress tracker to set your goals and review your progress.
Over 6 hours of live coaching with Jo for one-to-one advice, support and feedback.
I've received 11 new referrals as a direct result of the program – which means I've made back my investment in the course more than ten times over. I know we have a lot more in the pipeline too – which is the great thing about the course. It gives you the system you need to keep nurturing those relationships over a long period of time.
This is a great program for anyone who is looking for a strategy and a system for staying in touch with people who have access to your ideal client – plus the process for measuring your results so you can see what's working, what's not and what needs to change.
The idea of building relationships can feel abstract and overwhelming for some people: but this really is a system you can follow. Jo is the real deal and this process works.
Brad Williams
Option 1 – Monthly Payment Plan (Cashflow friendly)
3 x Payments of $328.90 AUD  (Total of $986.70 AUD*)
(*GST is included for the Aussies)
Option 2 – Pay in Full and Save!
1 Payment of $836 AUD*
(*GST is included for Aussies)
Trust that you're in safe hands
with a money-back guarantee:
If you're skeptical about what My 5 Favourite People can do for you, then let me help you put your worries to rest: I'm giving you 90 days to put all of this into practice.  If you don't receive a single new referral after 90 days of doing the work, participating in the group and putting my advice into action, I'll give you a full refund – because I'm certain that this approach works if you do the work. 
Refunds will only be offered to people who actively participate in the group, complete the all of the assigned activities and attend all of the group coaching calls. 
Why?  Because this approach will only work if you show up, every week, and put this stuff into practice.  Refunds will only be given to people who show that they've put all of the content into practice by submitting a record of the work they've completed, and actively participating in the group and the coaching calls. 
But if you do the work and it doesn't pay off, you'll get your money right back.  Just tell me within 90 days of signing up by emailing admin@jomuirhead.com.
Frequently Asked Questions
When does the program start?
We'll get you set up to access the private group and the training material by Feb 15th with the first Live call being on 1pm Thursday 22 Feb Sydney time. Here's a time zone converter to see when this first into your schedule: https://www.timeanddate.com/worldclock/converter.html
How is this different to all the books and free things I can read about networking?
Most of the resources out there about networking give you blanket advice that isn't helpful.  You'll leave this program armed with the scripts, the process and the exact steps you need to take to build real connections with real people who will be glad to have met you. Even if you already know what to do – have you done it yet?  With my 5 Favourite People, you'll have the accountability, support and individualised advice you need to take action and approach people in a way that feels good.  Let's have some fun with this!
I'm an introvert and I'm terrified of reaching out to people. Are you going to make me do things I hate?
I solemnly swear that I will never, ever ask you to do something that I wouldn't do myself.  Still, putting yourself out there can be uncomfortable no matter what, but we'll be there to guide you and support you the whole way.
What if I can't attend the group coaching calls live?
All of our group coaching calls are recorded.  If you can't make it live, you can watch the recording later – but for best results, I recommend attending the calls live.
Will this program show me how to market online?
No – My 5 Favourite People is exclusively tailored towards helping you get new referrals as fast as possible using a process for networking offline. Online marketing is important, but if you want results quickly, offline relationship building is the way to go – and that's exactly what you'll learn here.
For best results, how long should I have been in private practice for?
It doesn't matter whether you have an established practice or just opened your practice yesterday – if you are looking to bring in new clients and grow your referrals, you will benefit from this course if you put in the work.
Is there a refund policy?
Yes.  We have a generous refund policy, which you can read below…
Earnings Disclaimer:  While every effort has been made to accurately represent this program and it's potential, there is no guarantee that you will earn any money using the techniques and ideas provided in My 5 Favourite People. Examples in the materials are not to be interpreted as a promise or guarantee of earnings. Earning potential is entirely dependent on the person participating in the program. Your level of success in attaining the results claimed in the program depends on the time you devote to the program, your finances, knowledge and various skills. Since these factors differ between individuals, we cannot guarantee your success or income level, nor are we responsible for any of your actions. For best results, undertake the program seriously and studiously, and you may see incredible results, but none are promised or guaranteed.
ENROLMENTS CLOSE 15th FEB 2018
Limited to only 15 People!
What if you had 12 weeks of practicing, developing and refining your skills – receiving coaching from someone who has been using this strategy for 8 years?
What if you could get over your nerves, your fear of rejection, your fear of "I don't know what to say", your fear of being "annoying" and simply be the valuable, thoughtful and resourceful expert that deep down you know you are?